At a minimum, it's advised to bathe your dog at least once every three months. Our massage brush will make this, a much easier routine. And your dog will love you for it!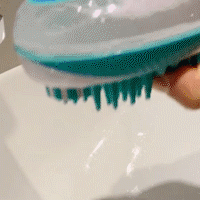 Imagine How Enjoyable Your Dog Will Be When Gentle Water Cools It Down While Soft Silicone Brush Relaxes Its Body. It's Totally A Pleasant SPA!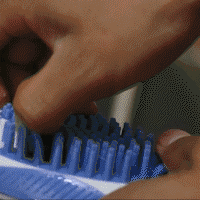 Save time, save shampoo, and show your little one how much he or she is loved!
PRODUCT FEATURES
Our Pet Bath Massage Brush can provide a quick and thorough washing of your pets' coat as well as massaging the skin to improve the blood circulation to enhance healthy skin and coats.

A gentle massage can stimulates the pet's skin to produce natural oils to keep the skin smooth and shiny.
Convenient to use: The one-piece foam reservoir design can help you save a lot of time squeezing and diluting shower gel. Dilute the pet shampoo beforehand, then press the top to dispense blisters to your pet's fur coat while taking a shower. This is not only can save shower gel, but also make it easier to create more foam.
Soft & Safe for Pet Use As we all know, pet's hair has numerous soft nubs, the round silicone particles bristles of this pet brush are soft and non-toxic, will ensure not scratch pets' skin as well as gently removes loose hair and dead fur while bathing.
Ergonomic Mouse Shape Design:

The side of this bath brush has an

anti-slip design which will help you control the force well

and make your cat and dog feel comfortable.
PRODUCT SPECIFICATION
Material: ABS + TPR
Size: 11.5 x 7.5 x 26 cm
Weight:

about 80g

Color: Green, Blue