BitePets Cat Window Perch offers your cat a high position. Sleeping on it leisurely, enjoying the sun, the weather and the beauty of nature, it's really a pleasure
Cat Hammock Bed Hanging Sunny Seat Window
Made of high-quality durable fabric, the hammock ensures easy air circulation keeping your pets cool and comfortable.
As cats are known to sleep at any place, they find suitable, these hammocks are perfectly designed to ensure that they don't fall off while sleeping.
Air Permeability: The fabric has strong air permeability and is not easy to mold. It is made to be stable and has a phenomenal load bearing capacity.
Easy to Clean: This hammock is made of high-quality plush fabrics which is soft as well as tight. The braided rope connected with the plush bed can be removed from the hook for cleaning.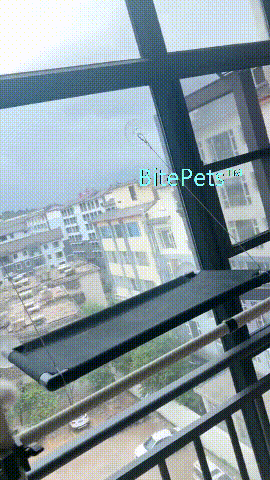 🐈Steady And Durable
Except for transparent PP suction cups, BT Cat Window Bed uses 2 nut suction cups, which are 3 times as stable as transparent PP suction cups.
🐈Elegant
Well-designed and high-quality materials make it not just a cat bed but also a fine decoration for your sweet home.
🐈Two Levels
More space for cats to play, BT Cat Window Perch allows your kitties to climb up and down and sleep on a level as they wish.
The adjustable sandwiching height which is up to 13.5 inches allows your cat to have enough standing space in the bottom layer.
🐈Easy to Assemble
Follow steps in the detailed instruction, to finish installation within several minutes.
🐈Optimization space
Make full use of the room area to create 3Dmaze,Let the cat get full exercise
🐈For Small Size Window
Movable suction cups, as long as your window's width is larger than 17.8 inches, it can be successfully installed.
While distance from hammock's metal frame to window glass is 0.3 inches
Color:Grey
Colour: Black
Weight:1.7pounds
Size: Length: 24 inches * Width: 12.5 inches
The project includes:
1 cat bed