Having hard times convincing your stubborn cat to brush his teeth?
Then do it the other (effortless) way using the Catnip Exquisite Ball!
With this pawsome ball's help, your kittie will clean his teeth himself without him noticing it. It is disguised as a chewable toy ball with catnip as the bait that's irresistible for cats.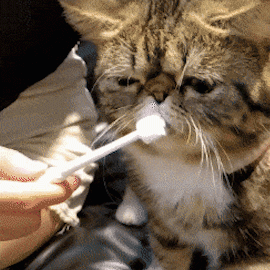 GENIUS DESIGN

–

No need to convince or bribe with food your fur baby to clean his teeth!

Instead, he himself will do anything to lick the catnip inside the stickball (a material that strengthens cats' teeth when chewed).
FUN TOY

–

Drives kitties wild & crazy!
SOLID BUILD

– Survives even the strikes mightiest cats out there! Its

sturdy sticks are supported with strong strings

for incredible durability.
SAFE TO PLAY

– 100% All-Natural! The catnip inside this pet toy ball is

harvested & dried from organic farms

to give your kitties ONLY the best catnips in the whole feline universe!
IDEAL GIFT

– Know a fellow feline lover? Share this catnip ball with her and

establish a paw-erful connection between your kitties.
Treat your cat's dental health effortlessly with the purr-fect ball!
Get this
Catnip Exquisite Ball
MEOW!