Happy Feeding: It's an action-packed food dispensing toy. It sits upright until pushed by your cat's paw and then dispenses tasty rewards as it wobbles, spins and rolls.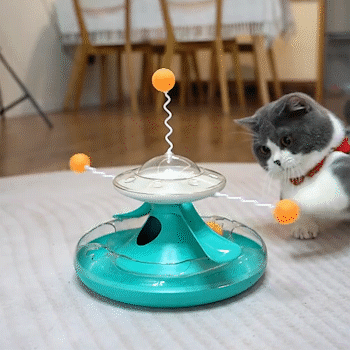 Adjustable Cat Feeder Toy: Adjustable levels of feeding difficulty that you can just slide dial to adjust the size of 1-2 holes, adding more fun for your cats' eating and training your dog physically and mentally.
Boredom Buster: It can reduce boredom, stimulate and challenge cat's intelligence while forming your cat a good habit of eating slowly.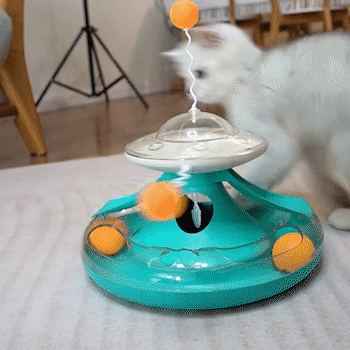 Distraction from Furniture: Fun and effective solution to save your furniture from reckless scratching and chewing.
Adjustable Leak Hole Design:Slide side switch to adjust the opening size of one to two holes and control the release of treats. Multiple difficulty levels challenge your cat's brain and promote slow and healthy feeding.
Safe & Durable:The maximum diameter of the food dispensing hole can be adjusted to 0.78inch, the added food should be smaller than this diameter, or the food can be cut a little smaller then put it in. Note : Please put dry granulated food instead of sticky food.
Funny & Beneficial: Dual rolling balls design, makes your feline friends happy playing while enjoying delicious treat. Detachable wand to satisfy your cat's natural desire, keeps your pet away from the furniture.
We promise your item will be shipped within 24 hours after payment to meet your urgent needs.